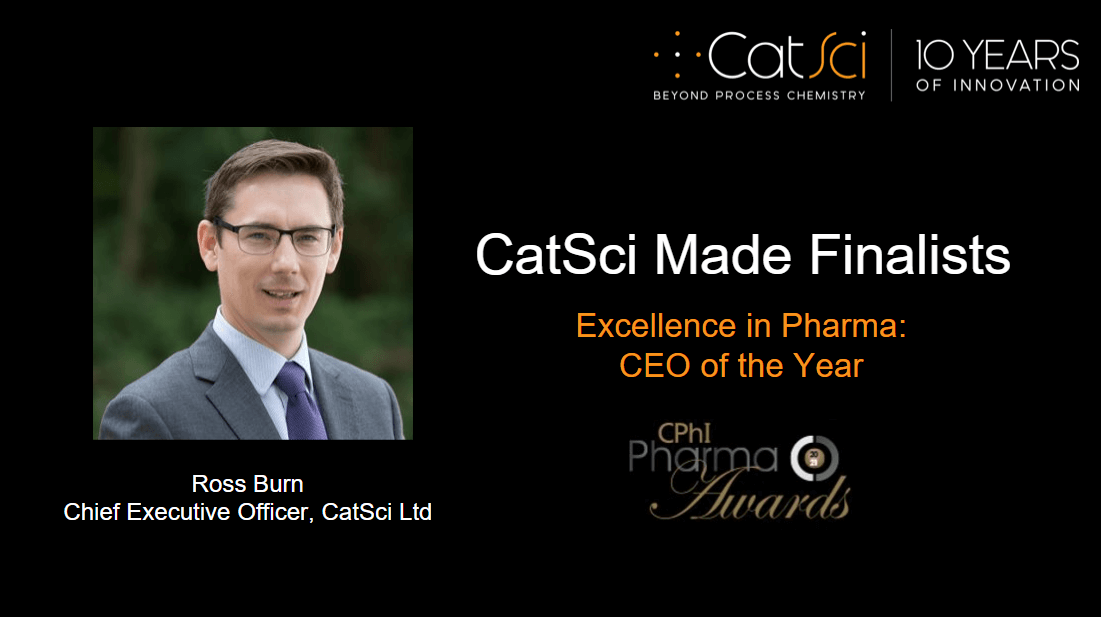 29 October 2021
CatSci Ltd are pleased to announce that we have been shortlisted as finalists for the Pharma Intelligence CPhI Excellence in Pharma: CEO of the Year award. We are incredibly proud of our CEO, Dr Ross Burn, and are delighted that his hard work, dedication, and passion to accelerate medicines development have been recognised.
This prestigious award reflects Ross' extraordinary entrepreneurial spirit and his strong company vision. He co-founded CatSci in 2010 with just four years of relevant science experience, which shaped him into the entrepreneur he is today with a firm 'keep learning' mantra. Ross' ambition is the driving force behind CatSci's multi-award winning success. Over the past decade, Ross has helped CatSci to evolve to meet the ever-growing needs of the pharmaceutical industry; he has always been ahead of the curve in diversifying and enhancing CatSci's capabilities. Under his leadership CatSci secured a £3 million investment, which will allow us to further enhance our process chemistry, material science, analytical science, and pre-formulation capabilities. Furthermore, we now have six operational laboratories across two UK sites since the opening of our new Dagenham site dedicated to analytical excellence, as well as an alignment with Argonaute RNA. Also, Ross has been instrumental in developing CatSci to become a "Digital First, Intelligent Automation Next" company.
Dr Ross Burn's focus and determination on delivering overall strategy has been crucial to CatSci's rapid growth. However, it is Ross' views on workplace culture that has also allowed the company to thrive. He has ensured that CatSci is an employee-first and team-focused company that values every staff member. He is a supportive leader rather than directive, with a continuous improvement culture; he works hard to help staff achieve their goals, both personally and for the business.
We are incredibly proud of Ross' achievements; in 2021, he was also included on The Medicine Maker Annual Power List of Inspirational Professionals in the Pharmaceutical Industry. Ross has been included alongside Dame Emma Walmsley (CEO of GlaxoSmithKline), Kenneth C. Frazier (Executive Chairman of Merck), and Phil S. Baran (Professor at Scripps Research.)
Last week, we announced that we have also been nominated for another two awards; we are proud to be finalists in the Cardiff Business Awards Employer of the Year Award, as well as the In-House Recruitment Award for Recruitment Innovation. We are thrilled that our commitment to our employees, as well as the expertise of our CEO are being recognised in this way. These nominations coincide with our 10 year anniversary, in which we celebrate a decade of commitment, innovation and excellence. We will continue to further our capabilities while remaining a trusted innovation partner for medicines development to all our global customers.
Discover More:
CatSci CEO Ross Burn Included on The Medicine Maker's 2021 Power List
CatSci has been listed in the Top 10 companies of the 2021 Alantra Pharma Fast 50 awards