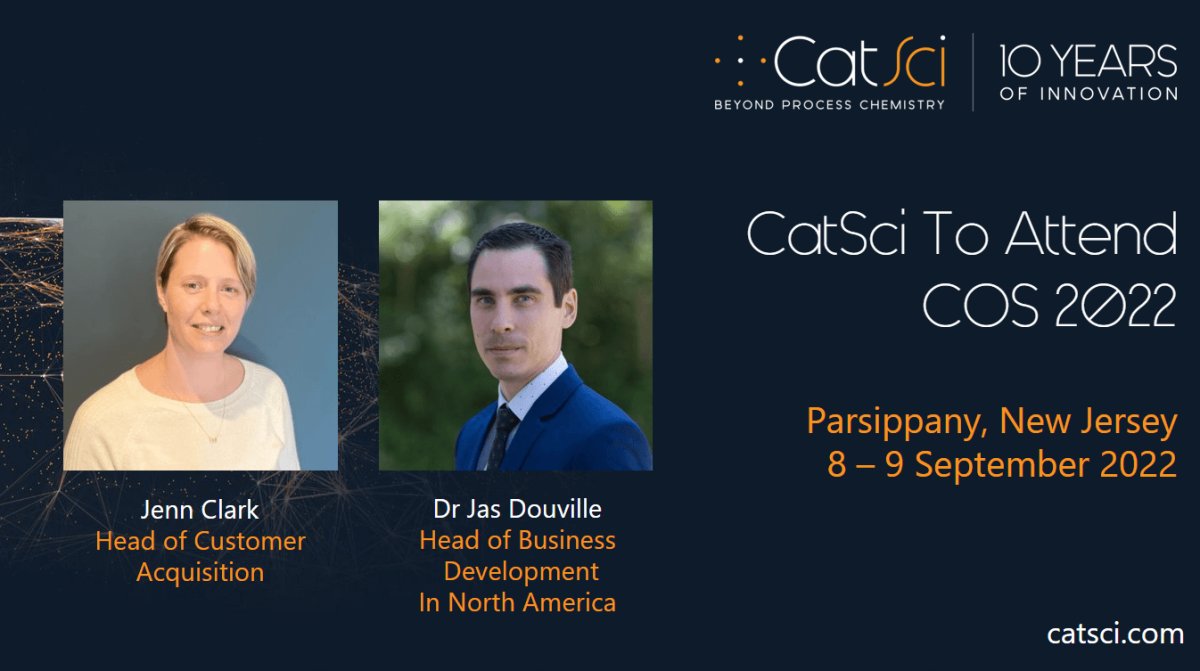 CatSci Ltd is pleased to share that we will be attending the Chem Outsourcing (COS) Conference in Parsippany, New Jersey on 8th – 9th September 2022. This in-person event will bring together the pharmaceutical industry from across globe, and we are looking forward to networking with the community.
Jenn Clark, our Head of Customer Acquisition, and Dr Jas Douville, our Head of Business Development in North America, will be attending the two-day event. They will be available to discuss CatSci's capabilities, and how we bring together chemists, analysts, data specialists, material scientists, formulators, and pharmacists to deliver your best-in-class therapeutics. If you would like to book a meeting with Jas and Jenn, please contact them here.
Jas and Jenn are also looking forward to telling you all about SmartPath, CatSci's innovative new digital tool that will risk assess your API, project, and formulation data and offer smart mitigation strategies. With the premium SmartPath feature, you will work alongside our Director of Material Sciences, Dr Robert Dennehy, to devise a tailored life-cycle plan of your API to meet your budget and project needs. With SmartPath, you can focus on what matters most – delivering your asset to the next step, without surprises or delays. You can find out more about SmartPath here, and be sure to ask us about it at COS.
We are excited to attend COS and to see the return of in-person events and networking with the community, it is sure to be insightful and engaging. We are looking forward to exhibiting what CatSci can do for you; come along to our stand or arrange a meeting with Jenn and Jas to find out more about our offerings and what makes CatSci a successful and award-winning innovation partner of choice for pharmaceutical companies across the globe.