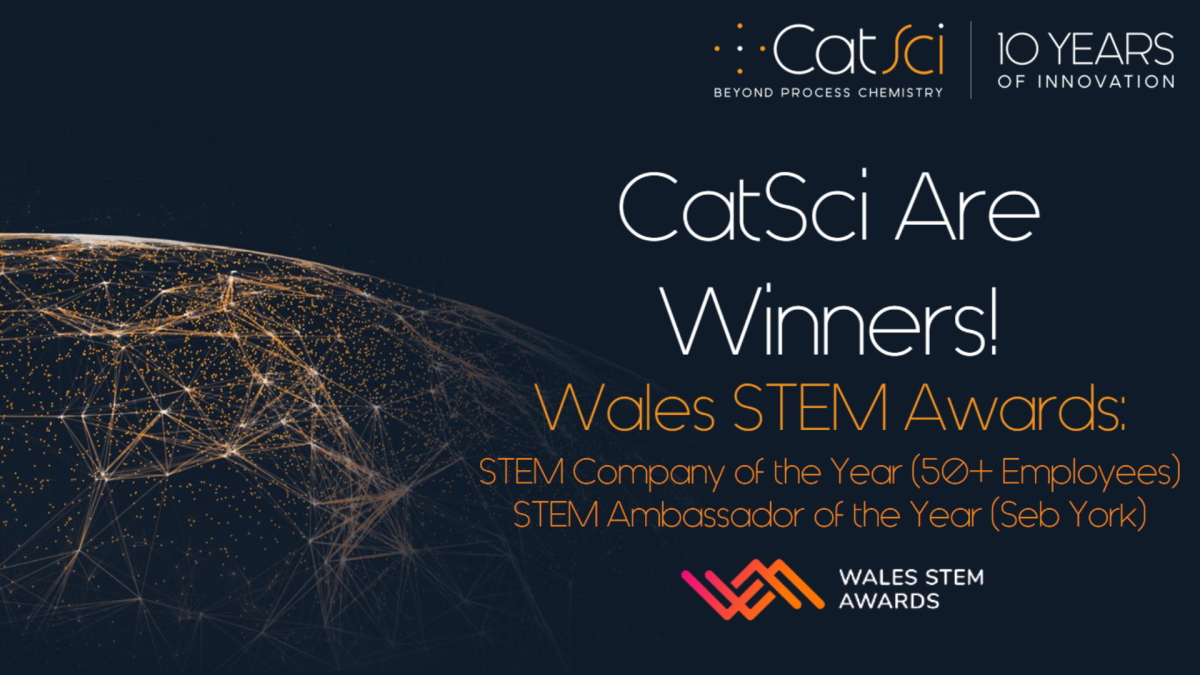 CatSci Ltd are thrilled to announce that we have won two Wales STEM Awards: we have won the STEM Company of the Year (50+ Employees) award and our Talent & Inclusion manager, Seb York, has won the STEM Ambassador of the Year award.
The Wales STEM Awards are a celebration of the companies in Wales that are dedicated to furthering the Welsh STEM sector. We are incredibly proud to have won the STEM Company of the Year (50+ Employees). This award reflects the hard work and talent of the CatSci team, and our dedication to our customers all over the globe. It affirms our position as a best-in-class partner for global pharmaceutical companies that demonstrate customer excellence, employee satisfaction and an innovative approach to medicines development.
This award also provides important recognition that a Cardiff-based company is playing a vital role in the development of life changing therapeutics, putting Wales at centre stage for the global pharmaceutical sector. We will continue to pursue our mission of getting best-in-class medicines to patients all over the globe while sustaining a strong and supported workforce. We pride ourselves on creating an environment where all our employees can flourish, while also paying close attention to our environmental and social responsibilities.
We are also proud of Seb's achievement in winning the STEM Ambassador of the Year award. He is passionate about furthering the STEM sector in Wales and encouraging young people to pursue a career in the industry. From attending assemblies and delivering career talks, to participating in assessments and hosting mock interviews, winning this award solidifies Seb's position as a STEM ambassador in Wales.
Seb is also committed to enhancing diversity, equality and inclusion in the sector. As well as collaborating with schools about opportunities in the industry, he also promotes diversity and inclusion to school pupils. He is committed to encouraging them to realise that whatever background they come from, there is a place in the STEM field for them.
In line with CatSci's ambitious growth strategies, from graduates beginning their career to more experienced employees looking for a change, Seb is integral in creating more and better STEM opportunities in Wales.
Dr Mark Waring, our Director of UK Operations and Cardiff Site, said:
"It is great for the business to be recognised for the work we do to support STEM activities – they are at the heart of addressing all the global challenges we face as well as inherent in the work we do towards getting new medicines into the hands of patients in need. Although a fantastic effort by the whole team, it is especially pleasing to see Seb receive the award for STEM Ambassador of the Year for his tireless dedication."
Seb York, our Talent & Inclusion Manager, said:
"Everyone should be able to picture themselves working in the STEM sector, and everyone in our industry should feel that they belong to it. We aim to ensure it is happening by working with schools, universities, and charities while opening doors to fresh graduates, postgraduates and postdocs of all backgrounds. Winning this fantastic award gives me a sense of pride and encourages me to do even more."
Furthermore, Seb is hosting a Careers Workshop on 15th November. The CatSci Careers Workshop will provide advice on how to break into the industry, as well as tips for interviews and CV writing. Seb will be joined by some of our scientists, who will be discussing their career journeys so far. If you want to come to the CatSci Careers Workshop and learn the skills you need to break into industry, sign up now.