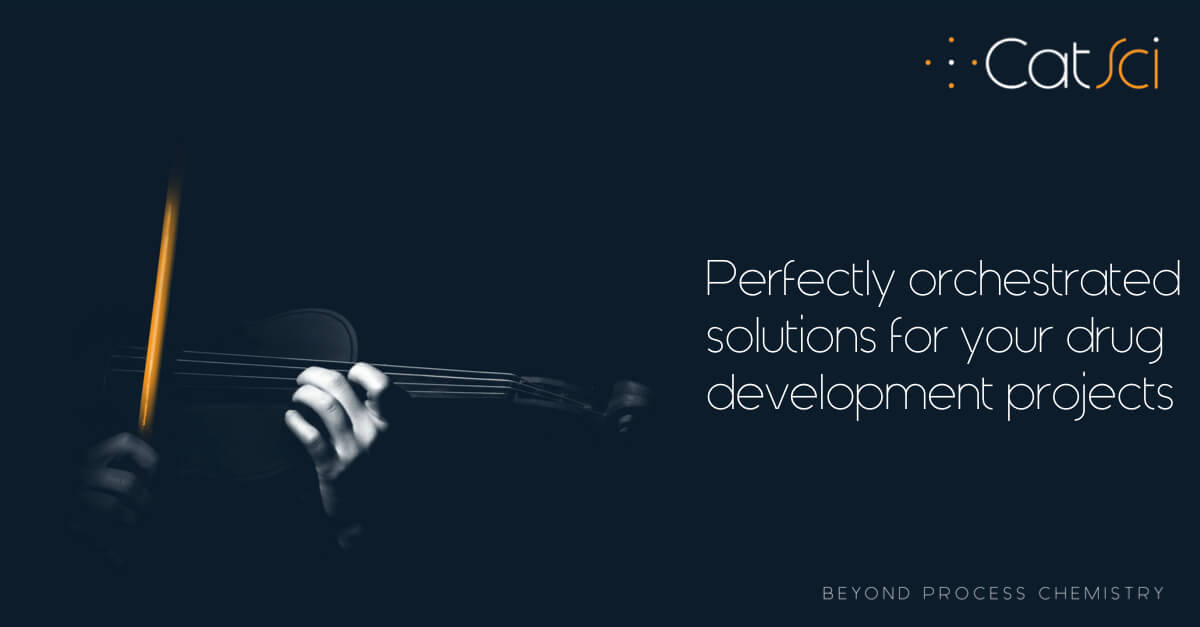 Cardiff, UK – CatSci Ltd, a scientifically led, commercially minded and award-winning innovation partner, today announced partnerships with three UK companies across the pharmaceutical supply chain – M2M Pharmaceuticals (M2M Pharma), New Path Molecular (NPM) and Upperton Pharma Solutions (Upperton). This will provide CatSci's customers with access to specialised capabilities and expertise, ensuring they can develop affordable, best-in-class small molecule therapeutics that meet their evolving healthcare needs.
CatSci provides tailored process research and development services for its customers, but this is not the only step in the drug development supply chain. By partnering with these three leading companies with extensive expertise in their respective fields, CatSci can offer enhanced strategic value to its customers throughout the journey from molecule to medicine.
M2M Pharma, based in Reading, provides material characterisation for pharmaceuticals, offering customers the next step in their medicines manufacturing process following CatSci's rigorous drug substance development.
Upperton, located in Nottingham, supports the next step in the supply chain through pre-formulation, formulation and drug product services. This includes GMP spray drying, as well as formulation for inhalation products and solid oral dose products.
CatSci has also partnered with New Path Molecular, based in Cambridge, who are industry leaders in flow chemistry and other machine-assisted technologies. CatSci predominately specialises in batch chemistry, so NPM can provide continuous processing services to customers who may benefit from access to this technology.
Collaborating with these partners ensures that CatSci's customers have access to curated support across the supply chain. Seamless technological transfer will be enabled through strong communication and the close, 100-mile, geographic radius that all four companies operate within. These partnerships will help CatSci maintain its expert services in-house while simultaneously aiding customers throughout their drug development and manufacturing journey.
Dr Ross Burn, CEO at CatSci, said: "We have found a way to immediately add value and specialised expertise to our customers' projects without diluting CatSci's capabilities and experience. By creating this network of trusted partners, CatSci is ensuring that our customers' needs are met end-to-end, no matter the project demands."

Dr Richard Johnson, CEO at Upperton, said: "Upperton sees great value in collaborating with other like-minded companies that can add value to our business and enhance the speed at which our customer's products progress to market. We see great value in this exciting new partnership with CatSci. The combined expertise that this new consortium brings will certainly enhance the services that we can provide for our customers."

Dr Mridul Majumder, Founder & Director at M2M Pharma, said: "Pharmaceutical product development is a long-haul journey that requires money, expertise, facilities and time. However, the most important aspect is collaboration, without which success is limited. Therefore, when Ross visited us in August 2020 and proposed this partnership with CatSci and other companies, it was an easy yes from our side to participate in this journey. We look forward to working with this partnership and I am convinced that together we will achieve more."

Dr Elizabeth Farrant, CEO at New Path Molecular, said: "We are delighted to be partnering with CatSci, with their proven expertise in batch process research and development. We are looking forward to providing our know-how in flow chemistry and continuous processing to customers who will benefit from this cutting-edge technology."
About CatSci
CatSci Ltd provides tailored process research and development services to emerging, mid-sized and large pharma. We proudly serve customers across the globe with projects, meeting their needs from IND-enabling through product launch. Our services include route scouting and selection for early development, and process design, development and optimisation for later development. As a scientifically led and commercially minded innovation partner with aproven track record, weare dedicated to optimising our customers' drug substance manufacturing processes to enable them to create small molecule best-in-class therapeuticsin a safer, greener and more cost-effective way. Together, we can meet the evolving healthcare needs of the world.
Ensuring open consultation and communication in everything we do, we take the time to understand our customers' project objectives and then efficiently and effectively resolve the challenges that they face. CatSci is committed to ensuring it is the right investment for the research and development of economically and environmentally sustainable pharmaceutical manufacturing.
Recognition includes wins at the prestigious CPhI Pharma Awards 2018 (Excellence in Pharma: Contract Services and Outsourcing) and at the highly esteemed Cardiff Business Awards 2019 (International Business of the Year). We have also recently been shortlisted for the International Expansion Entrepreneur of the Year at the Barclays Entrepreneur Awards 2020, and for the 2020 Wales STEM Awards in both the STEM International Business of the Year and STEM Scale-Up of the Year categories.
About New Path Molecular
New Path are an innovation partner for the chemistry using industries. A spin out from the laboratories of Prof. S. V. Ley, we have been working with scientists since 2015 to innovate their access to functional molecules. We have a deep heritage in problem solving. Specialists in flow chemistry and complex natural products, we work with companies large and small, in human and animal health, agrochem and fine chemicals to innovate their chemistry. Our work results in patents which have been used to regain commercial advantage, raise Series A and reduce cost of goods.
About M2M Pharma
 M2M Pharma is a contract research organisation that provides early stage product development services to pharmaceutical, food, biological and biotechnological companies all over the world as a "Fee for Service". We have clear moto as "Quality Science Delivered on Time". Our biggest asset is our clients, and our success story lies with 80% repeat business year after year from them. Our business recognition can be heard from client testimonials here. We have been an ISO9001:2015 certified company since 2018.
About Upperton Pharma Solutions
Upperton Pharma Solutions is a specialist CDMO providing formulation and dosage form development services to the biotechnology and pharmaceutical industries. We offer our clients a complete development service, from early feasibility studies to process optimisation, scale up and clinical trial (GMP / IMP) manufacturing.
We have experience of working with a range of dosage forms and the expertise to develop the most challenging of molecules; including biotherapeutics along with small molecules. Our formulation work is complemented by a comprehensive range of analytical services for product testing, ICH stability studies and process validation.
We are able to enhance the performance and delivery of our client's products by utilising an extensive range of formulation technologies. In particular we are one of the world leaders on expertise and know-how in pharmaceutical spray dryings; probably the most versatile and fastest growing technology in the industry.
Upperton has an extensive, multinational client-base, ranging from virtual and small start-ups to global pharma companies. We pride ourselves on our client-focused, flexible approach and scientific excellence.
© CatSci Ltd, 2020.
Editorial enquiries:
Shelley Farrar Stoakes, Notch Communications
shelley.farrarstoakes@notchcommunications.co.uk
+44 (0) 161 818 9214