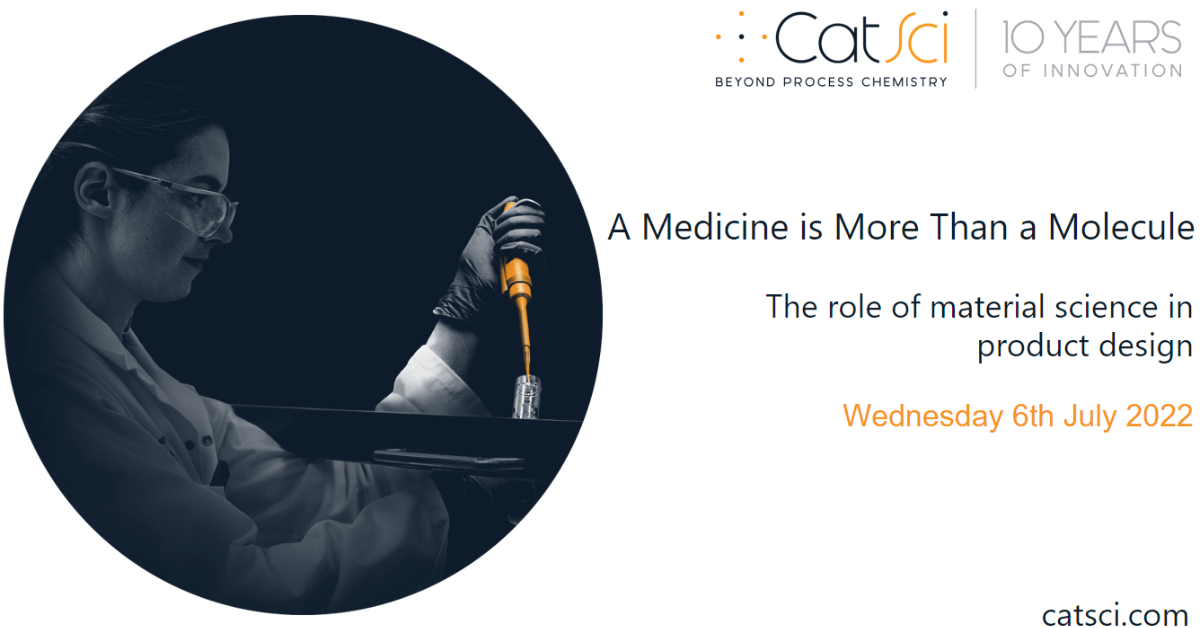 CatSci is hosting a free virtual symposium entitled "A Medicine is More Than a Molecule" on Wednesday 6th July at 14:00 (BST)/ 15:00 (CET)/ 09:00 am (EDT).
The event will discuss the crucial role of material science in product design. In pharmaceutical medicines development, solid-state properties of pharmaceutical materials play a key role in their success; the solid form is critical in formulation performance, manufacturing process control, and purification. Furthermore, solid form selection is a key decision to optimise trade-offs, facilitate control, and improve the probability of success and the security of supply.
Also, we will be introducing SmartPath. SmartPath is your tailored API Risk Assessment that risk assesses your API, project, and formulation data and offers smart mitigation strategies. With SmartPath, you can focus on what matters most – delivering your asset to the next step, without surprises or delays.
The free event will be hosted by
Dr Parsons will open the symposium with a presentation on "Pharmaceutical Product Design – Starting With The End In Mind." Dr Parsons has significant experience in formulation development across multiple types of medicines, including small molecules, proteins, and RNA-based therapeutics. He has notable expertise in inhaled product development, and is committed to integrating API material science into dosage form design to give customers flexibility and optionality when it comes to pharmaceutical product design.
Following on from Dr Parsons, Dr Dennehy will deliver a talk on "API Risk Assessment- Is Your Process in the Safe Zone?", which will explore the cruciality of understanding the risks of your API process. API physical properties are at the core of the performance of many formulations; not all drugs are the same, as some carry more risks than others. It is imperative you know and understand the issues that risk delaying your project in order to expedite your API process. By assembling data generated during early development in a meaningful way, we will shine a light on assets that are inherently riskier.
Experts in their field and with decades of experience, there will also be opportunity to ask questions to Dr Dennehy and Dr Parsons, as well as network with the wider community across the globe.
Discover the agenda here.
Register for the free virtual event today.
#SmartPath