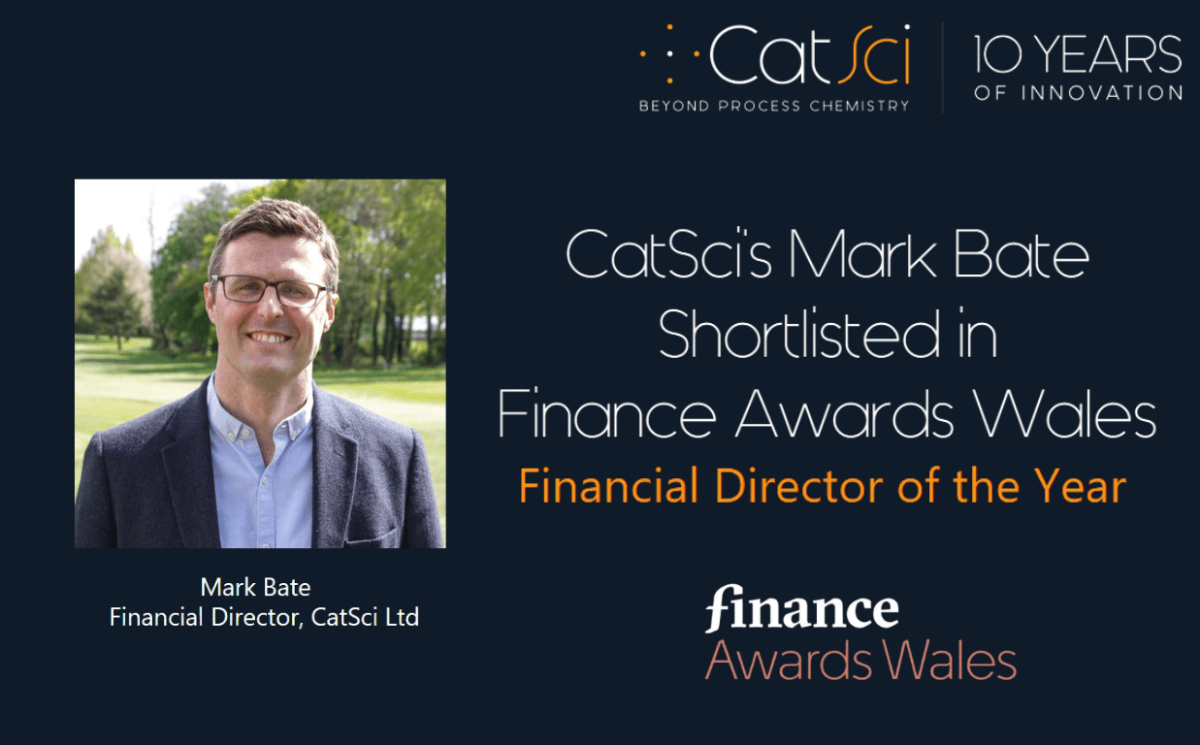 CatSci Ltd are thrilled to share that our Financial Director, Mark Bate, has been shortlisted for Finance Award Wales' Chief Financial Officer/Finance Director of the Year Award. The Finance Awards Wales are a celebration of the significant contribution of the Finance sector to the Welsh economy, and we are incredibly proud that Mark has been recognised by this outstanding achievement.
Mark joined the CatSci team earlier this year as part of our strategic and continued evolution; he leads on all financial matters. Mark is passionate about making finance easily understood and accessible to all individuals within the company, and is committed to helping CatSci continue to grow to meet the needs of its customers.
Mark has brought a wealth of expertise to CatSci, thanks to his impressive experience within the financial sector. After obtaining a First-Class degree in Accountancy, Mark began his career at PriceWaterhouseCoopers (PWC), where he became a chartered accountant and advised companies of all sizes across the UK on a range of financial matters. He then took up the position of Head of Business Partnering at the University of South Wales, before becoming CFO of a growing technology business, before joining the Jehu Group as Group Finance Director.
The winners will be announced at the end of June, and we are extremely proud that Mark is part of the CatSci team and has been recognised by this prestigious shortlisting.
Ken Poole, Head of Economic Development and Cardiff Council and on the Chair of Judges, said of the awards: "We have had a strong list of applicants, many of them new entrants from across Wales. The talent and capability within the finance sector continues to impress the judges. It's great to see the growing pool of financial talent in our companies."
2022 has already gotten off to a flying start for CatSci, this announcement is the latest of our good news. We recently won the coveted Queens Awards For Enterprise: International Trade 2022; this prestigious award is a huge honour to CatSci. You can read all about it here.